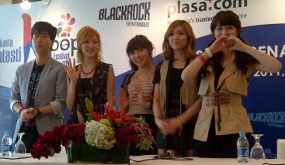 Jakarta
- Minggu (19/6/2011) saat sesi jumpa fans di Hotel Mulia, Senayan, Jakarta Selatan, rapper asal
JYP Entertainmen
t, San-E mengaku masih menyimpan foto Putri. Putri adalah perempuan yang pernah berpacaran dengannya saat duduk di bangku SMA.
"Putri bukan hanya sebuah cerita untuk penampilan saya kemarin. She's real. Saya masih punya foto bersama Putri,"
ujar
San-E
saat seorang fans bertanya apakah cerita Putri itu kisah nyata.
"Kami berpisah saat ia lulus SMA dan kembali ke Indonesia. Sejak saat itu saya belum pernah bertemu lagi dengan Putri,"
lanjut pria berusia 26 tahun ini.
Sebelumnya saat tampil dalam gelaran
Jakarta FantastiKpop Festival 2011
, Sabtu (18/6/2011) di Istora Senayan, Jakarta, San-E bercerita tentang dirinya yang pernah jatuh cinta pada seorang perempuan Indonesia.
"When I'm a high school kid, there's a beautiful Indonesian Lady in my class, her name is Putri. I'm in love with her and she even kiss me,"
ujar San-E disambut teriakan riuh penonton yang membayangkan sosok perempuan beruntung itu.
San-E bersama Miss A hadir dalam jumpa fans bersama 80 penonton beruntung yang mendapat cap BlackRock Entertainment selaku promotor di gelang yang menjadi tanda masuk di acara Jakarta FantastiKpop Festival 2011. Selain San-E dan Miss A, Kim Hyung Jun 'SS501', 2AM, dan JOO juga hadir dalam festival yang berlangsung kemarin, Sabtu (18/6/2011) di Istora Senayan, Jakarta.
Reshare by Qisthi http://thisaboutkorea.blogspot.com/ Source : detikhot
'kpop,news,about korea,korean stars,korean music,download,film,OST,movies'