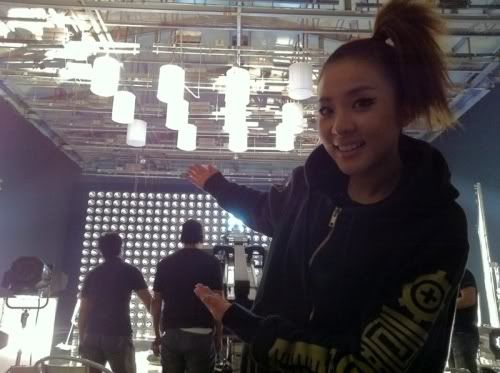 2NE1 Dara membagi foto setting MV "I'm The Best" !!
Tanggal 18 Juni,
Sandara Park
mengupload foto saat syuting MV baru
2NE1
.
Dara menulis,
"Tada! Dimana aku?! Ini adalah! Lokasi untuk syuting MV 'I'm the Best'! Apa yang kau lihat di belakangku! Hehe… aigoo! Aku sangat tidak sabar, aku mau menunjukannya kepada kalian semua dan aku memfotonya! Seperti ini! Aku mau pergi sekarang!"
Dara menambahkan,
"Ini membuat penasaran! Mohon nantikan MV 'I'm the Best' minggu depan!"
Netizens pun berkomentar,
"Kami akan menunggu.", "Apakah boleh kau menunjukan lebih banyak ?", "Hatiku bergetar, aku gak sabar!"
MV "I'm The Best" akan rilis tanggal 24 Juni !
Credits & Translation by Qisthi http://thisaboutkorea.blogspot.com/ Source : allkpop
'kpop,news,about korea,korean stars,korean music,download,film,OST,movies'